About Toboni & Co.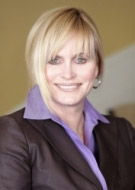 MARY TOBONI
Mary Toboni has been in the Real Estate business for 29 years. As a Top Producer year after year, Mary succeeds in providing superior service for both buyers and sellers. With strong negotiating skills, creative marketing talent, in-depth knowledge of San Francisco neighborhoods, and extensive real estate industry knowledge, Mary has the expertise necessary to understand the complexities of purchasing or selling one's property. Mary's professionalism and integrity for her clients' real estate transactions have resulted in consistent Top Producer honors, Pacific Union #1 Presidio Agent and SF Association of Realtors ranking in the top 1% of agents citywide.
In addition to extensive citywide residential sales, Mary's experience in development, renovation, new construction, condo conversion and multi-unit building sales adds to her knowledge of the overall Real Estate Market. Mary has the skill, command and knowledge to successfully represent sellers and buyers in all facets of the market and generates a 90% referral status from consistently satisfied clients. Mary's client relationships are built on trust, expertise and performance. As a Pacific Union top producer, Mary's unparalleled focus on client satisfaction and service make her the best choice when selling or buying your home.
COMMUNITY INVOLVEMENT
Mary's commitment to the community is the extensive through both her time and direct donations. She donates a portion of her commission on every sale to the Pacific Union Community Fund. Mary also dedicates her time and makes personal donations to local non-profit organizations.
Breast Cancer Emergency Fund
Curry Senior Center
Dolores Street Community Services
Edgewood Center for Children and Families
Homeless Prenatal Program
Huckleberry Youth Programs
La Casa de las Madres
Meals on Wheels
Project Homeless Connect
Raphael House
SF Child Abuse Prevention Center
SF Court Appointed Special Advocates (SFCASA)
SF General Hospital Foundation
St. Anthony's Foundation
St. Vincent De Paul
UCSF Alliance Health Project
Women's Community Charities
American Ireland Fund
Mission Dolores Academy
Cristo Rey ICA
Seven Tepees
Big Brothers Big Sisters
St. Anne's Home
Order of Malta
St. Ignatius College Prep
De Marillac Academy
Gillian Toboni
Gillian is a third-generation native San Franciscan who has had the unique experience of living in many of San Francisco's great neighborhoods – the Marina, Cow Hollow, North Beach, Presidio Heights, Inner Richmond, and Sea Cliff. Her experience living in so many of San Francisco's iconic neighborhoods affords Gillian first-hand knowledge of the benefits and differences of each neighborhood. With her vast knowledge of the local market and its ever changing dynamics, Gillian offers unsurpassed knowledge and has vital tools and resources necessary to represent her clients successfully.
Gillian is always available to her clients and provides them with full service from start to finish during every transaction. Gillian prides herself on finding and executing the best opportunities specifically tailored to each of her clients. She is known for her integrity, negotiating skills and innovative marketing. Whether you are a first time home buyer or looking to buy or sell luxury property, Gillian works with clients of all different backgrounds.
Prior to her real estate career, Gillian spent four years working in the finance world in San Francisco. Gillian is a member of the American Ireland Fund and Seven Tepees, which is an organization that helps benefit the youth of San Francisco's Mission District. In her spare time, she enjoys traveling, meeting new people, exploring new restaurants in San Francisco, and spending time with family and friends.